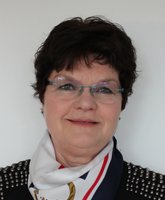 TRINE OLINE SØRAA
Languages: Norwegian, English, German
Born and raised in Trondheim. Studied music in Vienna, Austria, and lived there for 5 years. Speaks German with a Viennese accent. Loves all things British and is very fond of English litterature. Studied special ed and school development in Norway and has been teaching in Trondheim for over 30 years.
Graduated as an authorized Trondheim guide in 1994.
Has tour manager experience from Hurtigruren (The Coastal Express), has been teaching new tour guides and give lectures on tour guide technique.
She has also created over 300 radio programmes about the history of Trondheim with NRK-reporter Tom Erik Sørensen, and has written several books on "Historical Trondheim".
To book a tour with Trine, send an email to trine.soraa@trondheim-guide.com or call +47 959 24 456.