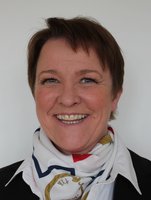 ASTRID MARGRETE AASUM
Raised in Lade in Trondheim.
Studied German in Germany and French in France, and has a diploma in German and French from the Norwegian School of Economics.
Many years of experience from the tourism industry, such as reception manager at the Britannia Hotel and tour manager and purser at Hurtigruten (The Coastal Express). Well versed in the art of facilitation and execution of different types of activities and tours. Also many years of experience in business administration in international corporations.
Gratuated as an NGA-authorized guide in March 2004. Has participated actively in the running of local guide associations and the Norwegian Guide Association. Presently a member of the board of Trondheim Guide.
Languages: German, French, English, Norwegian.
To book a tour with Astrid, send an email to astrid.aasum@trondheim-guide.com or call +47 930 80 123.